Posted date: 08-12-2015
Townhouses trade new style, located in large shopping malls, outstanding facilities, road frontage bordering lands of gold being offered tens of billion apiece.
Survey VnExpress, ground floor shophouse after wave of apartment buildings in HCMC sought, the market appears new style shophouse kind, modern and more expensive. The commercial houses offer later located on a yellow ground, together with the red book and in shopping malls amenities, are run by giant real estate developer.
Top 12/2015, Vingourp launched 52 products in the shophouse complex including a business center, 5-star hotel on the road 30/4, Ninh Kieu District. According to entrepreneurs and real estate, roads, land costs are assessed as the second costliest Tho (150-200 million per m2).
Home front in the 7-12m wide shopping street, is supplied with the ground, the red book, long-term ownership, large land area doubled, even tripled traditional shophouse on the market, ranging 110-185 m2, floor scale up to 320-375 m2 building. Lowest price highest 9 billion and VND19 billion per unit, or about half a million to a million dollars a unit.
Whether completely new product on the real estate market, this shophouse units still attracts many VIPs in the capital of the West book, in spite of super expensive price. Particularly, the base rate 2 fronts buy a struggle for a product 5 to 5 bookings.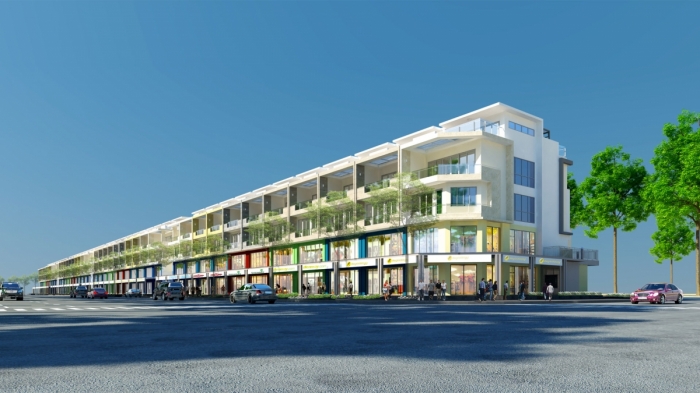 According to real estate experts in Can Tho, investors this segment are among the giants, huge capital. They are more than capable to spend tens of billion and was intrigued because there area number of products shophouse less, located in commercial complex class services. These investors have low expectations about new models this townhouse with all amenities: supermarket consumer electronics stores, amusement parks, movie theaters, 5 star hotel ...
Meanwhile, in Thu Thiem, hot province of East HCMC, JSC Dai Quang Minh ongoing product line offers also special and equally expensive urban area is located in Sala.
This type shophouse in limited quantities, extremely wide façade (over 7 meters), adjacent to the city and connects seamlessly with the urban axis within the project. Each product has a tunnel structure, 4 floors and terrace, long-term stable ownership. The highest sale price of 30 billion, or nearly $ 1.5 million a unit. Despite prices excessively, the new-style town houses adjacent still attract the attention of investors.
In a publication reporting on the Thu Thiem new urban area, CBRE ever mention the average land price in this megacity of about $ 3,000 per m2 and the investor must pay the cost of the land once. However, according to experts, the number of $ 3,000 per m2 Thu Thiem not fully reflect the extent of the land is expensive beautiful. With the urban terrain Sala, located on the main road artery, the land value to be higher than average, which explains why there is price shophouse million.
Evaluation of the various commercial aspects of this modern city, senior consultant consulting firm Global Business Integration (GIBC), Huynh Phuoc Nghia commented: "On the real estate market still exists a particular segment for large investors. They have the ability to pay millions of dollars, favorite hunting unique products and commercial property as shophouse only a very thin slice. "
According to Nghia, the attractiveness of the problem lies in the shophouse million product reviews on 5 highlights that all real estate investors were stunned lust. First, the gold land position, unique. Second, are insured by the brand name price, class. Third, commercial property outperformed the rest of the market. Fourth, in limited quantities, listed as rare. Fifth, sustainable property values ​​and have more opportunities to rise over time.
According to this expert, the resonance of the 5 advantages on which shophouse million extremely expensive though still create gravity with investors. "This product line has its own market, demand should own expensive price is not the problem, even help increase the attractiveness, as a pledge of assets challenging time," he said.
ST
vnexpress